---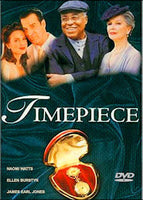 Sale
Timepiece DVD 1996 (Region One - Playable in the US, Canada, Mexico, etc.) Color.
Starring: Naomi Watts, James Earl Jones, Ellen Burstyn, Kevin Kilner, Richard Thomas, Mercedes Kastner, Jonathan Tabler, Michael Goodwin, Lily Gibson. Written by Richard Fielder, based on the novel by Richard Paul Evans. Directed by Marcus Cole.

In The Christmas Box -- Richard Evans (Richard Thomas) met widow Mary Parkin (Naomi Watts), and they each transformed and enriched one another's lives. This incredible followup begins on the wedding eve of Richard's daughter, Jenna, when he gives her Mary's rose gold watch and tells her the story of Mary's life. Mary came to work for David Parkin (Kevin Kilner), a wealthy businessman, during World War II. Despite Mary's lack of social position, David fell in love with her. At their wedding, David gave Mary a timepiece from his friend Lawrence Flynn (James Earl Jones). Their lives seem to be on track when suddenly one surprising incident threatens to tear them apart. They learn the timeless truths about the gift of sharing, the power of forgiveness, and the greatest miracle of all – each other.

A beautifully crafted prequel to the much-loved classic, many feel this film surpasses and richly improves upon the original.
***** Highly recommended.