---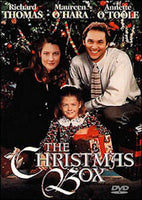 Sale
The Christmas Box 1995 DVD (Region 1 - Playable in North America - The US, Canada, Mexico, etc.) Color. New, lower price.

Starring: Richard Thomas, Maureen O'Hara, Annette O'Toole, Kelsey Mulrooney, Robert Curtis Brown, Michael Ensign, Nicole Forester, Lily Gibson. Written by Greg Taylor based on a book by Richard Paul Evans. Directed by Marcus Cole.

The Evans family is interviewed by elderly, wealthy widow Mrs. Parkin (Maureen O'Hara) for a live-in status, since their apartment is too small for them now. To their surprise, they are brought in on a trial basis, and mom Keri (Annette O'Toole) and daughter Jenna (Kelsey Mulrooney) rapidly grow closer to the old woman. But Richard (Richard Thomas) is often busy -- so busy that he's almost never there for his family. But Mrs. Parkin's mysterious past, a cache of old letters, and a strange, haunting question lead him back to the first gift of Christmas.
A much-loved holiday classic based upon the best-selling novel by Richard Paul Evans.

Followed by the excellent prequel film Timepiece, which is also available here at The Movie-O-Zone!