---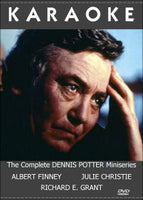 Sale
Karaoke DVD (Region 1 - Playable in North America - The US, Canada, Mexico, etc.) Complete Mini-series. Color. 2-Disc Set. New temporary price reduction!

Starring: Albert Finney, Julie Christie, Richard E. Grant. Written by Dennis Potter.
Daniel Feeld (Albert Finney) is working on a fictional play for television. The play, entitled "Karaoke", concerns a beautiful young woman working in a sleazy karaoke bar run by Arthur "Pig" Mallion. Fiction and reality begin to intertwine when Feeld overhears snatches of his dialogue in the world around him – and encounters real people bearing his character's names. The lines between the world he has created and the world in which he lives begin to blur – and a desperate struggle to control both becomes enmeshed in his evolving sickness and a terminal diagnosis. Re-writing his will to right wrongs, leaving his body to a cryogenics laboratory, and plotting to go out with a bang, Daniel Feeld is about to write an ending for one world that will have great repercussions in the next.
Karaoke and Cold Lazarus were two television dramas written by the acclaimed TV playwright Dennis Potter, each story built around the fate of the central character David Feeld (portrayed by Albert Finney in both miniseries).
Having been diagnosed with terminal cancer and with less than six months to live, Potter undertook a race against mortality to complete two television dramas which were uniquely to be shared between Channel 4 and the BBC. In a televised interview with Melvyn Bragg he said "My only regret is if I die four pages too soon." He didn't – and the result is a fitting tribute to a life committed to the creation of some of the finest television drama ever written.