---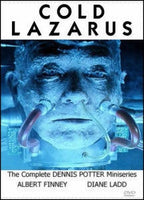 Sale
Cold Lazarus DVD (Region 1 - Playable in North America - The US, Canada, Mexico, etc.) Complete Mini-series. Color. 2-Disc Set.
Starring: Albert Finney, Diane Ladd, Ciaran Hinds. Written by Dennis Potter.
In Cold Lazarus, we find the cryogenically stored brain of Daniel Freed trapped in a future world where scientists gather to watch his projected memories. Under pressure from rival corporate interests, the scientists fall victim to the tricks that memory can play, picking at threads as they try to comprehend how personal histories are written – and can be rewritten. As elements of truth and fiction explosively intertwine, will the mind of Daniel Feeld finally be set free?
Karaoke and Cold Lazarus were two television dramas written by the acclaimed TV playwright Dennis Potter, each story built around the fate of the central character David Feeld (portrayed by Albert Finney in both miniseries).
Having been diagnosed with terminal cancer and with less than six months to live, Potter undertook a race against mortality to complete two television dramas which were uniquely to be shared between Channel 4 and the BBC. In a televised interview with Melvyn Bragg he said "My only regret is if I die four pages too soon." He didn't – and the result is a fitting tribute to a life committed to the creation of some of the finest television drama ever written.