---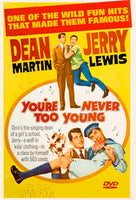 Sale
You're Never Too Young 1955 DVD (Region One - Playable in North America - The US, Canada, Mexico, etc.) Color. Digitally Remastered.
Starring: Dean Martin, Jerry Lewis, Diana Lynn, Raymond Burr, Nina Foch, Mitzi McCall, Veda Ann Borg, Nancy Kulp, Milton Frome, Heather Ames, Bobby Barber, James Burke, Hans Conreid. Written by Sidney Sheldon from "Connie Goes Home" by Edward Childs Carpenter and "Sunny Goes Home" by Fanny Kilbourne. Directed by Norman Taurog.

When barber's assistant Wilbur (Jerry Lewis) unwittingly becomes involved in a heist, he tries to get away by train. He is unaware that gangster Noonan (Raymond Burr) has slipped a stolen diamond into his pocket. Unable to pay the fare, Wilbur dresses up as a young boy and sits with teacher Nancy (Diana Lynn). When one of Nancy's colleagues sees Wilbur, she concludes that Nancy is cheating on Bob (Dean Martin), her fiancé. Wilbur remains disguised to prove Nancy's innocence and evade Noonan.
"Dino's the singing dean of a girl's school, Jerry - a wolf in kid's clothing - in a class by himself with 503 coeds."
"BACK TOGETHER! The Wildest! The Nuttyest! The Zanyest! The Funnyest! Caught Between Gals Who Want to Kiss 'Em - And guys Who Want to Kill 'Em!"