---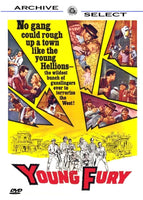 Young Fury (1965)  DVD Playable in North America (the US, Canada, Mexico, etc.) Color Full-frame Approx. 80 min.

Starring: Rory Calhoun, Virginia Mayo, William Bendix, Lon Chaney Jr., Richard Arlen, John Agar and Jody McCrea. Written by A.C. Lyles and Steve Fisher. Directed by Christian Nyby.

Pursued by the Dawson gang, Clint McCoy (Rory Calhoun) returns to his old hometown for the first time in many years. He left long ago after an infidelity of wife Sara (Virginia Mayo), leaving her and their infant son Tige behind.
Tige (Preston Pierce) is now a teenager. He believes his mother to be dead and hates his father for deserting them. When he comes to town with his teenage gang (the Hellion Gang), Tige encounters a saloonkeeper, Sara, but doesn't realize that she is his mother.
Calling his own father out for a gunfight, Tige does not get the better of him, but Clint refuses to kill him. More than half of Tige's gang leave town before the Dawson gang arrive. One of Tige's gang acts as lookout for Clint, signalling to him when the Dawsons arrive. The Dawsons then shoot the lookout. Tige then sits in the saloon to watch the Dawsons kill Clint, when Sara gets a rifle to help Clint she addresses Tige as her son, then goes outside, where she is mortally wounded. As she is dying, Sara explains who she is and why his father left. Tige then joins his father against the Dawsons.