---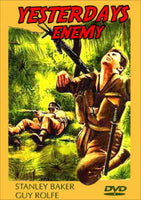 Sale
Yesterday's Enemy DVD 1959 (Region 1 - Playable in North America - The US, Canada, Mexico, etc.) Widescreen. B&W.
Starring: Stanley Baker, Guy Rolfe, Leo McKern, Gordon Jackson, Philip Ahn, Bryan Forbes, Percy Herbert, Burt Kwouk. Written by Peter R. Newman. Directed by Val Guest.

A profound and disturbing WW II film classic which focuses on the survivors of a battle-decimated brigade as they try to make their way through the Burmese jungle to rejoin the main British force. Led by Captain Langford (Stanley Baker), the survivors come upon a village where they surprise a small Japanese detachment. Found on a dead Japanese colonel is a coded map that details future Japanese battle strategy. Langford interrogates a captured Burmese agent, demanding an explanation of the code. The prisoner refuses to talk, so Baker carries through a threat you won't soon forget. What follows is devastating.
"An unflinching look at the effects of war on the human psyche."
"Crimes of War! Bloodiest Face of War Exposed! The Most Outspoken Film of Our Time! War Is Hell! The Most Controversial War Drama Ever Filmed!"