---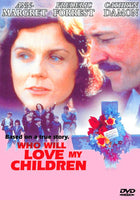 Sale
Who Will Love My Children? DVD 1983 (Region 1 - Playable in North America - the US, Canada, Mexico. etc.) Color. Based on a true story. New, lower price.

Starring: Ann-Margret, Frederic Forrest, Soleil Moon Frye, Cathryn Damon, Lonny Chapman, Donald Moffat, Patricia Smith, Jess Osuna, Christopher Allport. Written by Michael Bortman. Directed by John Erman.

Lucile Fray (Ann-Margret) has 10 children and terminal cancer. Her ne'er-do-well alcoholic husband, Ivan (Frederic Forrest), isn't capable enough to handle raising them; she knows that much. There's only one option left. As her last act on earth, Fray is determined to make sure her children have a secure future. This true story follows Fray as she looks for homes for her young ones while battling the disease that will eventually take her away from them.
"A true story of incredible Love and courage... She has courage and hope and ten children she loves. In a few short months she will find them new lives."