---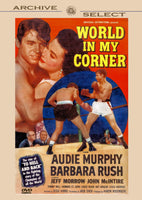 World In My Corner (1956) DVD B&W Approx. 82 min. (Region 1 - Playable in North America - The US, Canada, Mexico, etc.) Beautiful digitally restored print!

Starring: Audie Murphy, Barbara Rush, Jeff Morrow, John McIntire, Tommy Rall, Howard St. John, Chico Vejar, Steve Ellis and Art Aragon Written by Jack Sher and Joseph Stone. Directed by Jesse Hibbs.
A scrappy fighter from Jersey City named Tommy Shea (Audie Murphy) -- "born in a dump, educated in an alley" -- catches the eye of wealthy businessman, Robert Mallinson (Jeff Morrow), who allows him to train at his Long Island estate. Shea soon falls for Mallinson's daughter, Dorothy (Barbar Rush), but fears he doesn't have the money to support her in proper style. To get this money, Shea decides to work with crooked fight-promoter Harry Cram (Howard St. John), even though this means dropping his honest manager, Dave Bernstein (John McIntire). As the big fight approaches, however, Shea begins to have second thoughts.