---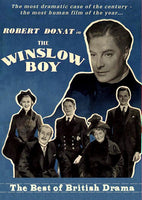 Sale
The Winslow Boy DVD 1948 (Region One - Playable in The US, Canada, Mexico, etc.) Black and White. Approx. 113 min. Beautifully re-mastered! With new, temporary lower price!

Starring: Robert Donat, Margaret Leighton, Cedric Hardwicke, Basil Radford, Kathleen Harrison, Jack Watling, Marie Lohr. Written and produced by Anatole de Grunwald. Directed by Anthony Asquith.

Based on the play by Terence Rattigan, this British drama – based on an actual case - finds young Ronnie Winslow (Neil North) accused of a petty theft and expelled from naval school. Convinced of his innocence, the boy's father (Cedric Hardwicke) and sister (Margaret Leighton) become dedicated to seeing justice done, and, along with a committed lawyer, Sir Robert Morton (Robert Donat), they embark on a series of courtroom battles to clear Ronnie's name, making personal sacrifices during the protracted case.
"Let right be done!"