---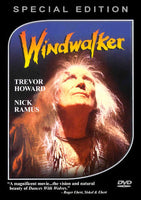 Sale
Windwalker 1980 DVD (Region One Playable in North America – The US, Canada, Mexico, etc.) Color. Full Frame. Cheyenne & Crow Native American language, with English subtitles. 
Starring: Trevor Howard, Serene Hedin, Nick Ramus, Dusty McCrea, Jason Stevens, Emerson John, Chief Tug Smith, Wanni-Omni-Ska-Robideau, Rudy Diaz. Written by Ray Goldrup and Blaine Yorgason. Directed by Kieth Merrill.

While the rest of his tribe travel south as winter approaches, elderly Cheyenne warrior Windwalker (Trevor Howard) stays behind to die. After crossing into the afterlife, Windwalker sees a vision of his murdered wife, Tashina (Serene Hedin), and realizes he must return to life to find their long-lost son (Nick Ramus). Now reincarnated, Windwalker sets out to unravel the mystery of his son's disappearance, while also protecting his family from repeated attacks by the violent Crow tribe.
This remarkable motion picture was named the Number One anthropological film of all time in an early 1990s poll of the American Anthropological Association.