---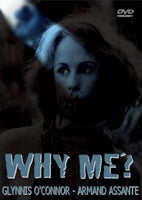 Sale
Why Me? DVD 1984 (Region 1 - Playable in North America - The US, Canada, Mexico, etc.) Color.
Starring: Glynnis O'Connor, Armand Assante, Craig Wasson, Annie Potts, Michael Sacks, Bruce Abbott, Richard Backus, William Windom and Donald Petrie. Written by Dalene Young, based on the true story of Leola Mae Harmon. Directed by Fielder Cook.

An Air Force nurse about to leave the service is badly disfigured about her face in a car accident in which she also loses her baby. Her husband cannot deal with her disfigurement and leaves her, the she goes through a depression wondering why she was kept alive. Her plastic surgeon begins a long, arduous, and controversial reconstruction of her face as he begins to fall in love with his patient. Based on the true story of Leola Mae Harmon.