---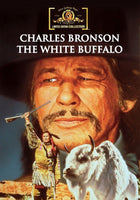 The White Buffalo (1977) DVD (Region 1 - Playable in North America - the US, Canada, Mexico, etc.) Widescreen. New, lower price.
Starring: Charles Bronson, Jack Warden, Will Sampson, Clint Walker, Kim Novak, Stuart Whitman, Slim Pickens, John Carradine, Cara Willaims, Martin Kove, Ed Lauter, Shay Duffin. Written by Richard Sale. Directed by J. Lee Thompson.

Tormented by incessant and recurring nightmares of a hellish great white buffalo attacking him in the snow-clad wilderness, the ailing Wild Bill Hickok (Charles Bronson), decides to travel north to hunt down the raging mythical beast. Along the way, the experienced hunter will team up with an old friend, the one-eyed Charlie (Jack Warden), while in the meantime, the Indian Chief Crazy Horse (Will Sampson) whose child was killed by the same creature, is already out in the unforgiving landscape, pursuing the extraordinary bison. Without a doubt, both men won't rest until they find the supernatural monster of legend, however, in this uncomfortable alliance, even the slightest mistake can prove deadly.
"Two legendary enemies unite to fight the charging white beast!! Charging... Roaring... Breathing Fire and Hell... The White Earthquake is Here! "