---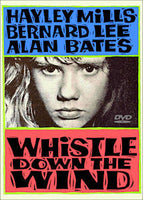 Sale
Whistle Down The Wind DVD 196 (Region 1 - Playable in North America - The US, Canada, Mexico, etc.) Black & White. Widescreen. Re-mastered.
Starring: Hayley Mills, Alan Bates, Bernard Lee, Norman Bird, Diane Clare, John Arnatt, Howard Douglas. Produced by Richard Attenborough and Jack Rix. Written by Keith Waterhouse and Willis Hall from the novel by Mary Hayley Bell (mother of the star Hayley Mills) Directed by Bryan Forbes.
A true British classic. A man (Alan Bates) on the run for murder hides out at a nearby barn. Through a series of bizarre twists he is discovered by three children (Hayley Mills, Diane Holgate and Alan Barnes), who believe they have stumbled across Jesus and attempt to keep him hidden from the grown-ups.
Based on the novel by Hayley Mill's mother, Mary Hayley Bell. This was also the source material for the Andrew Lloyd Weber musical.
Nominated for 4 BAFTA Awards.
"There was a stranger in the barn - a man on the run - but to her trusting heart he was something quite different."