---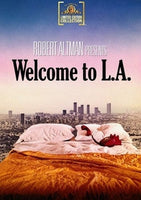 Welcome To L.A. 1976 DVD. Widescreen. Color. (Region 1 - Playable in North America - the US, Canada, Mexico, etc.) New, lower price! Rare.

Starring: Keith Carradine, Sissy Spacek, Harvey Keitel, Geraldine Chaplin, Denver Pyle, Lauren Hutton, Sally Kellerman, Viveca Lindfors, John Considine, Richard Baskin, Ron Silver. Written and directed by Alan Rudolph.

Director Alan Rudolph (a Robert Altman protege) offers up this delectable tour through the quirky side of the City of Angels.
This mosaic comedy-drama tells the story of a La Ronde-like circle of romantic adventures and failed affairs centered around a songwriter named Carroll Barber (Keith Carradine) and his father Carl Barber (Denver Pyle). There is a trail of Carroll's past relationship spread throughout the city of Los Angeles. Barber is an aloof womanizer who cannot commit to any relationship, and is used to illustrate the loneliness of Los Angeles big-city life. Among the women in his life are Ann Goode (Sally Kellerman), a lonely real estate agent, Karen Hood (Geraldine Chaplin), a Valley housewife addicted to taxi rides, Linda Murray (Sissy Spacek), a woman prone to vacuuming in the nude and Nona Bruce (Lauren Hutton), the snapshot-taking mistress of a wealthy man.
"City of Angels?  City of the One Night Stands maybe."