---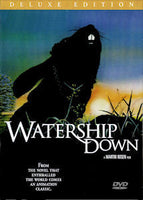 Sale
Watership Down DVD (Region 1) 1978 Deluxe Edition. Color. Widescreen.
Music by Art Garfunkel.
Voices of John Hurt, Zero Mostel, Ralph Richardson, Denholm Elliott, Richard Briers, Roy Kinnear, Terence Rigby, Harry Andrews, Nigel Hawthorne, Clifton Jones. Written by Richard Adams, John Hubley, Martin Rosen. Directed by Martin Rosen and John Hubley.

Much like Richard Adams' wonderful novel this animated tale of wandering rabbits is not meant for small children. It is, however, rich storytelling, populated with very real individuals inhabiting a very real world. The animation is problematic, sometimes appearing out of proportion or just below par; but it seems to stem from an attempt at realism, something distinguishing the film's characters from previous, cutesy, animated animals.
A band of rabbits illegally leave their warren after a prophecy of doom from a runt named Fiver (voiced by Richard Briers). In search of a place safe from humans and predators, they face all kinds of dangers, including a warren that has made a sick bargain with humankind, and a warren that is basically a fascist state. Allegories aside, Down is engaging and satisfying, and pulls off the same amazing trick that the novel did--you'll forget that this is a story about rabbits.
"

From the novel that enthralled the world, comes an animation classic. All the world will be your enemy, Prince with a Thousand Enemies, and when they catch you, they will kill you... but first they must catch you."