---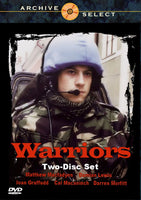 Sale
Warriors (1999) (aka Peacekeepers) DVD 2-Disc set Playable in North America – The US, Canada, Mexico, etc. Color Approx. 170 min. Beautiful print.
Starring: Matthew Macfadyen (HBO's "Succession"), Damian Lewis (HBO's "Billions", "Homeland"), Ioan Gruffudd ("Harrow", "Liar"), Cal Macaninch, Darren Morfitt, Shaun Dooley, Tom Ward. Written by Leigh Jackson, produced by Nigel Stafford-Clark and directed by Peter Kosminsky.
The ambitious two-part British miniseries Warriors (aka Peacekeepers) manages to put a human face on the 1992-93 war in Bosnia. It also raises several provocative questions concerning the U.K.'s controversial participation in the conflict. By focusing on a select group of soldiers and their families, the production analyzed the troops' effectiveness in the bloody campaign, and whether it was worth the sacrifice. It tells the story of a group of British UN peacekeepers serving in an operation in Vitez, in Bosnia during the Lašva Valley ethnic cleansing in 1992 -93.
The film emphasizes the contradictions of the mandate of the UN Peacekeepers, and the psychological trauma that they sustain while being forced to observe atrocities perpetrated against civilians without the ability to intervene.
(The ironic title of the program is taken from the name of the armored vehicle used by the British forces, the FV 510 Warrior.)
Warriors won: two BAFTA Awards, nominated for two additional; Winner of the Biarritz International Festival of Audiovisual Programming; the Broadcasting Press Guild Awards; Royal Television Society, UK – four wins and three additional nominations; Monte-Carlo TV Festival; Prix Italia and the Writers Guild of Canada.