---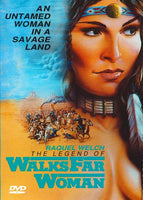 The Legend of Walks Far Woman 1980 DVD (Region One Playable in North America – The US, Canada, Mexico, etc.) Color.
Starring: Raquel Welch, Bradford Dillman, Nick Mancuso, Eloy Casados, George Clutesi, Nick Ramus, Frank Salsedo, Branscombe Richmond, Joanelle Romero, Rudy Diaz. Written by Evan Hunter from the novel "Walks Far Woman" by Colin Stuart. Directed by Mel Damski.

A Native American woman kills her husband after he becomes violently abusive. The tribe then banishes her from the community.
A tour-de-force for Raquel Welch!