---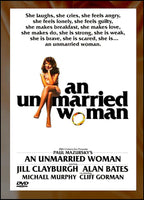 An Unmarried Woman 1978 Widescreen Color DVD (Region 1 – playable in North America: The US, Canada, Mexico, etc.)
New Lower price!
Starring: Jill Clayburgh, Alan Bates, Michael Murphy, Cliff Gorman, Lisa Pelican. Written and directed by Paul Mazursky
Erica (Jill Clayburgh) seems to have it all - a comfortable home, an interesting job in a Manhattan art galley, a bright teenage daughter, and a loving, successful husband. Then, suddenly, her life is shattered. Her "perfect" stockbroker husband Martin (Michael Murphy) leaves her for a younger woman. She is left frightened and alone to face the chancy singles world. How does a vital, contemporary woman pick up the pieces and start over?
As her life progresses, she begins to bond with several friends and finds herself inspired and even happier by her renewed liberation. The story also touches on the overall sexual liberation of the 1970s. Erica eventually finds love with a rugged, yet sensitive British artist (Alan Bates).
An Unmarried Woman was nominated for three Academy Awards including: Best Picture, Best Actress (Clayburgh) and Best Writing, Screenplay Written Directly for the Screen.
The film was nominated for New York Film Critics Circle Awards: including Best Film, Best Direction, Best Actress (for Jill Clayburgh) and Best Supporting Actress (for Lisa Lucas).
Mazursky's screenplay won awards from the New York Film Critics Circle and the Los Angeles Film Critics Association.
Jill Clayburgh won the award for Best Actress at the 1978 Cannes Film Festival.
Vincent Canby in the New York Times wrote, "Miss Clayburgh is nothing less than extraordinary in what is the performance of the year to date. In her we see intelligence battling feeling – reason backed against the wall by pushy needs."
Pauline Kael in The New Yorker wrote: "An Unmarried Woman may give Mazursky the popular success that his films 'Blume in Love', 'Harry and Tonto' and 'Next Stop, Greenwich Village' should have given him – Erica (Jill Clayburgh), the heroine, sleeps in a T-shirt and bikini panties. There are so few movies that deal with recognizable people that this detail alone is enough to pick up one's spirits... Jill Clayburgh has a cracked, warbly voice – a modern polluted-city huskiness... When Erica's life falls apart and her reactions go out of control, Clayburgh's floating, not-quite-sure, not-quite-here quality is just right."