---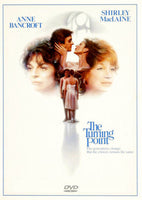 Sale
The Turning Point DVD 1977 (Region 1 - Playable in North America - The US, Canada, Mexico, etc.) Color. Full Frame. (New, lower price.)

Starring: Anne Bancroft, Shirley MacLaine, Mikhail Baryshnikov, Tom Skerritt, Martha Scott, Leslie Browne, Marshall Thompson, James Mitchell, Lisa Lucas, Alexandra Danilova, Anthony Zerbe. Written by Arthur Laurents. Directed by Herbert Ross.

Forced to give up ballet after becoming pregnant, Deedee (Shirley MacLaine) moved from New York to Oklahoma to raise a family with her husband (Tom Skerritt). When her old friend and fellow ballerina, Emma (Anne Bancroft), comes to town with her dance company and invites Deedee's daughter, Emilia (Leslie Browne), to join, Deedee is both excited for her daughter and nostalgic for her past life as a dancer. Jealousy and regret rise to the surface as Deedee copes with her buried dreams.
A moving story. A romantic story. A story of envy, hatred, friendship, triumph and love.
The generations change. But the choices remain the same.