---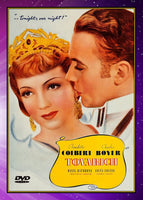 Tovarich 1937 DVD (Region 1 - Playable in North America - The US, Canada, Mexico, etc.) Black & White
Starring: Claudette Colbert, Charles Boyer, Basil Rathbone, Anita Louise, Melville Cooper, Isabel Jeans, Morris Carnovsky and Curt Bois. Directed by Anatole Litvak.
When upper-class Parisian Charles Dupont (Melville Cooper) and his family hire Tina and Michel as their servants, they have no idea that the domestics are in fact Tatiana, the Grand Duchess Petrovna (Claudette Colbert), and her husband, Mikail, Prince Ouratieff (Charles Boyer). Recent exiles from the Russian Revolution, Tatiana and Mikail befriend the Dupont family, keeping their true identities a secret -- until one night when Soviet official Gorotchenko (Basil Rathbone) arrives for dinner.
 "Tovarich" rates a genial nosdarovya and, if it's not one of the most important pictures of the year, nichevo! – New York Times
 *Very few prints of TOVARICH exist. After an extensive search we found what we believe to be the best surviving elements. We are pleased to make this available here on DVD, however the quality is not what you would expect of a state-of-the-art re-mastered print. On a scale of 1 to 10 it would be an 8.