---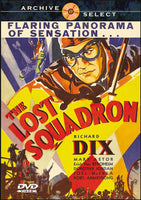 Sale
The Lost Squadron 1932 DVD (Region One Playable in North America – The US, Canada, Mexico, etc.)  B&W Approx. 80 min.
Starring: Richard Dix, Mary Astor, Robert Armstrong, Dorothy Jordan, Joel McCrea and Erich von Stroheim. Written by: Dick Grace, Wallace Smith, Herman J. Mankiewicz, Robert Presnell, Sr. and Humphrey Pearson. Music by Max Steiner. Produced by David O. Selznick. Directed by George Archainbaud, James Anderson and Paul Sloane.
After World War I, Army flying ace "Gibby" Gibson (Richard Dix) follows his actress girlfriend (Mary Astor) to Hollywood, Calif., even though she's spurned him for the despotic Prussian film director Arthur von Furst (Erich von Stroheim). Gibby and his friends, Woody (Robert Armstrong) and Red (Joel McCrea), begin working as stunt pilots for von Furst, but the filmmaker's quest for realistic war footage leads them into life-or-death situations -- and soon, the jealous director goes too far.
"It is an excellent melodrama, ably directed, with a background familiar to producers -- for it is chiefly concerned with stunt flying before the cameras in Hollywood and a film director is the evil genius." – New York Time