---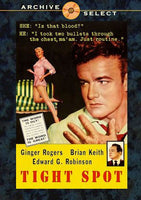 Sale
Tight Spot (Region 1 - Playable in North America - The US, Canada, Mexico, etc.) 1955 Black and White.
Starring: Ginger Rogers, Brian Keith, Edward G. Robinson, Lorne Greene, Lucy Marlow, Katherine Anderson. Written by William Bowers, from the play "Dead Pigeon" by Leonard Kantor. Directed by Phil Karlson.

Ginger Rogers plays model Sherry Conley, who is serving a prison term for a crime she didn't commit. Sherry is offered her freedom - and immunity - by U.S. attorney Lloyd Hallett (Edward G. Robinson) if she'll agree to appear as a material witness in the trial of mobster Benjamin Costain (Lorne Greene). She is taken to a hotel room to hide until it is time for her testimony, and a romance begins to blossom between the superficially hard-boiled Sherry and police officer Vince Striker (Brian Keith). With time before the trial running out, Costain will stop at nothing to kill her before she can reach the witness stand.
"SHE: "Is that blood?" HE: "I took two bullets through the chest, ma'am. Just routine.""
The story was said to be inspired by Senator Estes Kefauver's tactics in coercing Virginia Hill to testify in the Bugsy Siegel prosecution.