---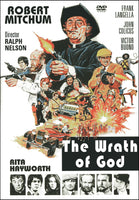 Sale
The Wrath of God (1972) DVD Region One Widescreen Color Approx. 110 min.
Starring: Robert Mitchum, Frank Langella, John Colicos, Victor Buono, Ken Hutchison, Rita Hayworth. Directed by Ralph Nelson. Digitally re-mastered.
Irish adventurer Emmett Keogh (Ken Hutchison) finds himself partnered with a hard-drinking priest named Van Horne (Robert Mitchum) in revolutionary Central America. Tricked into delivering guns by con man Jennings(Victor Buono), the three end up joining forces against despot Tomas de la Plata(,Frank Langella) who treats his subjects ruthlessly and who has a special hatred for priests. Van Horne, who seems to be a priest in costume only, decides to stand up to de la Plata and lead a revolt against him.
 "Introducing "FATHER" VAN HORNE. He's not exactly what the Lord had in mind."