---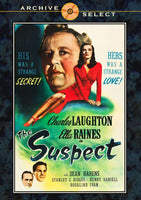 Sale
The Suspect (1944) DVD Region One (Playable in the US and Canada) B&W Beautifully re-mastered.

Starring: Charles Laughton, Ella Raines, Dean Harens, Stanley Ridges, Henry Daniell and Rosalind Ivan. Written by Bertram Millhauser, Arthur T. Horman, based on the novel by James Ronald. Directed by Robert Siodmak
 In 1902 London, unhappily married shopkeeper Philip Marshall (Charles Laughton) meets young stenographer Mary Gray (Ella Raines), who is currently unemployed and depressed. Their deepening friendship, though physically innocent, is discovered by Philip's wife (Rosalind Ivan). Her constant henpecking and discovery of Philip's wandering affection drive him to kill. A ruthless blackmailer (Henry Daniell) and a low-key detective (Stanley Ridges) both discover Philip's secret, and he has to decide which of them poses the more dangerous threat.
 "Without mincing words, Arthur T. Horman's adaptation from James Ronald's novel, magnificently transcribed to the screen by Bertram Millhauser, brilliantly directed by Robert Siodmak, who draws from Charles Laughton what is undoubtedly one of the finest characterizations of the latter's career, all combine to make The Suspect a superb thriller." Motion Picture Magazine