---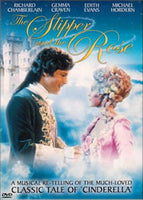 Sale
The Slipper And The Rose - The Story of Cinderella (DVD) 1976 (Region 1 - Plays in the US, Canada, Mexico, etc.) Color. Musical.
Starring: Richard Chamberlain, Gemma Craven, Dame Edith Evans, Michael Hordern, Annette Crosbie, Christopher Gable, Kenneth More, Margaret Lockwood, Julian Orchard. Written by Robert B. Sherman, Richard M. Sherman and Bryan Forbes. Directed by Bryan Forbes

The Slipper and the Rose is Bryan Forbes' classic Oscar-nominated musical that re-tells the much-loved story of Cinderella and features a wonderful score by the renowned Sherman Brothers (Robert and Richard) whose numerous credits include "Mary Poppins", "Chitty Chitty Bang Bang" and "The Jungle Book". Richard Chamberlain plays Prince Edward, the heir to throne of Euphrania, who is expected to find a wife. His parents the King and Queen (Dame Edith Evans and Michael Hordern) plan a Royal Ball to which all the princesses in the land will be invited so that he can find his bride. Meanwhile Cinderella (played exquisitely by Gemma Craven) lives in misery, her father has died and her wicked stepmother (Margaret Lockwood) and awful sisters (Rosalind Ayres, Sherrie Hewson) have made her the house servant. But with the arrival of her fairy Godmother (Annette Crosbie) comes three wishes and the chance for Cinderella to go to the ball.
"You'll forget every other love story you ever saw . . . or sang to"