---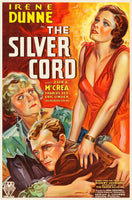 Sale
The Silver Cord 1933 B&W DVD Region One (North America - US and Canada) A rare and beautiful pre-code, 1930's print.

Starring: Irene Dunne, Joel McCrea, Laura Hope Crews, Eric Linden, Helen Cromwell and Frances Dee. Written by Jane Murfin, based on the play by Sidney Howard.

A domineering matriarch is less than happy when her son brings home his new bride. She immediately sets to work at sabotaging their marriage as well as the engagement of her younger and weaker son.
Sidney Howard's once-controversial play about the smothering aspects of Mother Love, The Silver Cord was filmed in 1933 with Laura Hope Crews recreating her stage role. Crews plays Mrs. Phelps, the outwardly selfless mother of David (Joel McCrea) and Robert (Eric Linden); Irene Dunne and Frances Dee play the younger women in the lives of the two sons. Mother Phelp's steamroller tactics lead Hester (Frances Dee) to attempt suicide, which results in the breakup of her relationship with Robert. Christina (Dunne), who loves David and insists he stand on his own feet, is determined that Mother will exert her insidious influence no longer. She persuades him to sever the "silver cord," leaving Mother Phelps alone with her weaker son Robert...
A rare and beautiful pre-code, 1930's print.
(Frances Dee met Joel McCrea on the set of this film. Following a whirlwind courtship, the two were married later that year in Rye, New York. He died on their 57th wedding anniversary.)
"TWENTY MILLION WIVES WILL CHEER... when this young bride tells her husband's mother what she thinks of her kind!"