---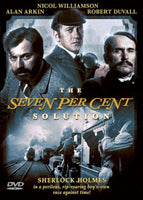 Sale
The Seven-Per-Cent Solution DVD (Region 1 - Playable in North America - the US, Canada, Mexico, etc.) Color. Widescreen. 1976. New, lower price! (7% Solution, Seven Percent Solution, 7 Percent Solution)

Alan Arkin, Nicol Williamson, Robert Duvall, Vanessa Redgrave, Laurence Olivier, Joel Grey, Samatha Eggar, Jeremy Kemp, Charles Gray, Georgia Brown and Anna Quayle. Written by Nicholas Meyer, based on Sherlock Holmes of Arthur Conan Doyle. Directed by Herbert Ross.

Sherlock Holmes (Nicol Williamson) becomes a patient of Sigmund Freud (Alan Arkin) in this stylish interpretation of the great sleuth by director Herbert Ross. Worried that his great friend's cocaine addiction is deepening, Dr Watson (Robert Duvall) dupes Holmes into travelling to Vienna to receive treatment at the hands of the great Austrian psychoanalyst. While Freud tries to find a way into Holmes' subconscious, the great detective busies himself by taking on a case involving the disappearance, and possible kidnapping, of ex-addict actress Lola Devereaux (Vanessa Redgrave).
"The Story is True...only the facts have been made up."