---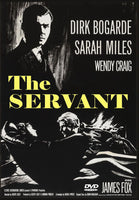 Sale
The Servant 1963 DVD (Region one compatible - Playable in the US, Canada, Mexico, etc.) Running time: 111 minutes Black and White Widescreen 1:66 Beautifully restored print
Directed by Joseph Losey Produced by Joseph Losey and Norman Priggen Written by Robin Maugham (novel) and Harold Pinter (screenplay) Music John Dankworth Cinematography Douglas Slocombe
Starring : Dirk Bogarde, Sarah Miles, James Fox, Wendy Craig
Adapted from Robin Maugham's short story, 1963 drama THE SERVANT marked the first of three collaborations between director Joseph Losey and celebrated playwright Harold Pinter.
The aristocratic Tony (James Fox) moves to London and hires the servant Hugo Barrett (Dirk Bogarde) for all services at home. Barrett seems to be a loyal and competent employee, but Tony's girlfriend Susan (Wendy Craig) does not like him, and asks Tony to send him away. When Barrett brings his sister Vera (Sarah Miles) to work and live in the house, Tony has a brief hidden affair with her. After traveling with Susan and spending a couple of days in a friend's house outside London, the couple unexpectedly returns and finds Barrett and Vera, who are actually lovers, in Tony's room. They are fired and Susan breaks with Tony. Later, Tony meets Barrett alone in a pub and hires him back, and Barrett imposes his real dark intentions in the house, turning the table and switching position with his master.
Nominated for five BAFTA's and winning three, including best actor for Dirk Bogarde, THE SERVANT is notable for its ambitious technique and its willingness to engage with what were, at the time, issues never before seen in British cinema.
"…subtly, fascinatingly...corruption by corruption...the servant becomes master..."

Winner, Best Cinematography - British Society of Cinematographers (Douglas Slocombe)
Winner, Best Cinematography - BAFTA (Douglas Slocombe)
Winner, Best Actor - BAFTA (Dirk Bogarde)
Winner, Most Promising Newcomer - BAFTA (James Fox)
Nominee, Best Picture - BAFTA (Joseph Losey, Norman Priggen)
Nominee, Best Actress - BAFTA (Sarah Miles)
Nominee, Best Screenplay - BAFTA (Harold Pinter)
Nominee, Most Promising Newcomer - BAFTA (Wendy Craig)
Winner, Best Foreign Director - Italian National Syndicate of Film Journalists (Joseph Losey)
Winner, Best Screenplay - New York Film Critics Circle (Harold Pinter)
Nominee, Best Actor - New York Film Critics Circle (Dirk Bogarde)
Nominee, Best Director - New York Film Critics Circle (Joseph Losey
Nominee, Golden Lion - Venice International Film Festival (Joseph Losey)
Winner, Best Dramatic Screenplay - Writers Guild of Great Britain (Harold Pinter)