---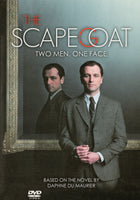 Sale
The Scapegoat (2012) DVD Color Approx. 103 min. With optional English subtitles. Shown in its original 16:9 aspect ratio, Plus "The Scapegoat – Behind the Scenes" Region One - Playable in the US, Canada, etc.
Starring: Matthew Rhys, Eileen Atkins, Anton Lesser, Jodhi May, Phoebe Nicholls, Alice Orr-Ewing, Andrew Scott, Sheridan Smith, Sylvie Testud, Pip Torrens. Based on "The Scapegoat" by Daphne du Maurier, Written by Charles Sturridge, Directed by Charles Sturridge
Set in 1952, as Britain prepares for the coronation, The Scapegoat tells the provocative story of two very different men who have one thing in common--a face. John Standing meets his doppelgänger Johnny Spence and, after a drunken night, is maneuvered into swapping lives with him. Standing is suddenly responsible for a beautiful young wife, two mistresses, a drug abusing mother, a precocious daughter, a crumbling stately home and a bankrupt business. Despite his efforts to escape, John finds himself irresistibly drawn into Johnny's life--with fatal consequences.
The Scapegoat is a morally complex, darkly comic and suspenseful movie, adapted from the novel by Daphne du Maurier (Rebecca, Don't Look Now) and featuring compelling performances from the film's ensemble cast.
DVD Extras: The Scapegoat – Behind the Scenes, including: The making of The Scapegoat and Interviews with the cast and crew.