---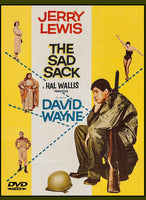 Sale
The Sad Sack 1957 DVD (Region One - Playable in the US, Canada, Mexico, etc.) Full-frame. B&W Beautiful digital restoration.

Starring: Jerry Lewis, David Wayne, Phyllis Kirk, Gene Evans, George Dolenz, Michael Ansara, Shepperd Strudwick, Mary Treen and Peter Lorre. Directed by George Marshall. Written by Edmund Beloin and Nate Monaster based on the "Sad Sack" comic strip by George Baker. Produced by Hal B Wallis.
Private Meredith Bixby (Jerry Lewis) simply cannot fall in line with army procedure, even though he has had 17 months of training. A psychologist (Phyllis Kirk), is assigned to turn him into a good soldier, so she enlists two fellow servicemen to help Bixby with his training. About the only thing that he can do right is remember things with his photographic memory.
Eventually the trio are assigned to a base in Morocco. One night they all head off to a bar where Bixby gets drunk on "Moroccan Delights", which he thinks are malteds. He gets involved with a femme fatale (Liliane Montevecchi) and is kidnapped by Arabian renegades.
Abdul (Peter Lorre) guards Bixby and makes him assemble a stolen cannon, knowing that Bixby had already memorized the assembly instructions back at the base. Bixby is eventually rescued by his fellow soldiers and they are all presented with medals of honor. Unfortunately, when Bixby mishandles a rifle he is punished with KP duty peeling potatoes… forever.
The film is based upon George Baker's comic book character.

"The Most Famous Goof-Up Who Ever Went to War...With The Army! A Sergeant's Dilemma...A Captain's Nightmare...A General Riot!"