---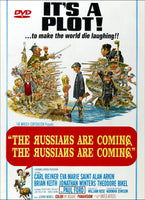 Sale
The Russians Are Coming, The Russians Are Coming DVD 1966 Color. Widescreen. Brand new temporary price reduction - a sale!

Starring: Carl Reiner, Alan Arkin, Brian Keith, Eva Marie Saint, Jonathan Winters, Theodore Bikel. Written by William Rose, based on the novel "The Off-Landers" by Nathaniel Benchley. Directed by Norman Jewison.

Norman Jewison directs this cold war comedy, which was hugely popular on first release in the mid 1960s. When a Soviet submarine runs aground on a sandbank just off the coast of New England, sub-captain Lt Rozanov (Alan Arkin) and sailor Alexei Kolchin (John Phillip Law) are sent ashore to seek assistance. Initially, they try to pass themselves off as Norwegians, but when this plan fails, Rozanov is reluctantly forced to take holidaying playwright Walt Whittaker (Carl Reiner) at gunpoint in order to secure the use of his powerboat. Meanwhile, the sweet-natured Alexei is left behind to guard Whittaker's wife Elspeth (Eva Marie Saint) and their attractive friend Alison (Andrea Dromm). Events escalate when the local townspeople become convinced that they have been invaded by the Russian army.
"Don't You Just Hate People Who Drop In Unexpectedly?"