---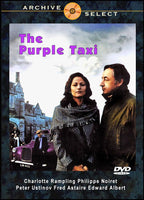 Sale
The Purple Taxi (Un taxi mauve) DVD (Region One - playable in the US & Canada) 1977 Color Charlotte Rampling, Philippe Noiret, Peter Ustinov, Fred Astaire, Jack Watson, Edward Albert. Written by Anne Dutter, Georges Dutter and Michel Déon (novel). Directed by Yves Boisset. Musical score by The Chieftans. In English without subtitles.
 A group of emotionally troubled expatriates find love, conflict, and redemption during a self-imposed exile to the Irish countryside. A terminally ill man, an eccentric Russian noble, his mute daughter, and two high-society American siblings find their answers with the help of a chipper old doctor in a shiny purple car.
"The unforgettable encounter of cinema's finest actors in a stirring film of dramatic greatness where the powers of love clash with force of human passions."