---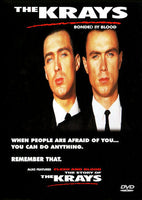 Sale
The Krays - Bonded by Blood 1990 DVD (Playable in North America - The US, Canada, Mexico, etc.) Color. New, lower price!

Starring: Gary Kemp, Martin Kemp, Billie Whitelaw, Tom Bell, Susan Fleetwood, Avis Bunnage, Gary Love, Kate Hardy, Alfred Lynch, Norman Rossington. Written by Philip Ridley. Directed by Peter Medak.

Twins Ronnie (Gary Kemp) and Reggie Kray (Martin Kemp) are raised in east London, under the influence of their hateful but doting mother, Violet (Billie Whitelaw). As they grow up, Ronnie's violent nature takes over, and Reggie follows his brother's lead. The two become notorious crime lords who rule over the East End club scene. But at the height of their power, the brothers veer into different lives, giving the older crime bosses a chance to reclaim what the Kray twins took from them.
"The Kemp brothers, from the English rock group Spandau Ballet, give haunting performances and are uncannily well used." - The New York Times
"He [director Medak] turns "The Krays" into a shadowy elegy of doom and gloom. He turns it into an art piece, and there's something a little queasy about the way he aestheticizes viciousness." - The Los Angeles Times
"When People are afraid of you, You can do anything. Remember that."