---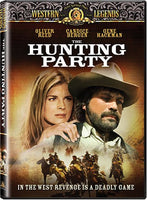 Sale
The Hunting Party 1971 DVD (Region 1 - Playable in North America - The US, Canada, Mexico, etc.) Widescreen. Color. 
Starring: Oliver Reed, Candice Bergen, Gene Hackman, Simon Oakland, L.Q. Jones, Mitchell Ryan, G.D. Spradlin. Written by Gilbert Ralston, Lou Morheim, William W Norton. Directed by Don Medford.

Nobody steals from Brandt Ruger (Gene Hackman) and lives. With a stellar cast led by Oscar-winner Gene Hackman (Unforgiven), Emmy-winner Candice Bergen ("Murphy Brown") and Oliver Reed (Gladiator), this searing western fires round after round of emotional heat with a torrid frontier love triangle that can only lead to revenge. To cattle baron Brandt Ruger, his beautiful wife Melissa (Bergen) is just one of his possessions. So when notorious bandit Frank Calder (Reed) kidnaps Melissa, Ruger isn't concerned about her. He's enraged that someone stole from him. Melissa finds her captor quite kind, but Ruger is organizing a posse to hunt down the pair and recover his property dead or alive!