---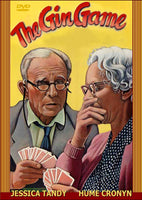 Sale
The Gin Game DVD (1981) (Region 1 - Playable in North America - The US, Canada, Mexico, etc.) Color Newly reduced price!

Starring: Jessica Tandy, Hume Cronyn. Written by D. L. Coburn. Directed by Terry Hughes.

In her twilight years, Fonsia Dorsey (Tandy, in her Tony-winning performance), enters a "home for the aged" and is for a while saved from melancholy by the crusty charm of Weller Martin (Cronyn).  The sardonic Weller cajoles Fonsia into playing a series of gin games on the home's sunlit porch. As they seemingly become close companions, much is revealed about their regret-filled lives - to the steady shuffling and playing of cards.  Their mutual need for solace is momentarily satisfied, until Weller's pent-up rage and Fonsia's subtle needling build to a terrible confrontation.  A triumph for the legendary husband and wife team, Tandy and Cronyn. 
An unforgettable theatrical experience, based upon the Pulitzer Prize-winning Broadway hit!