---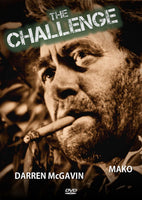 Sale
The Challenge 1970 DVD (Region 1 - Playable in North America - The US, Canada, Mexico, etc.) Color.  
Starring: Darren McGavin, Mako, Broderick Crawford, James Whitmore, Skip Homeier, Paul Lukas, Sam Elliott, Adolph Caesar, Davis Roberts, Byron Morrow. Written by Marc Norman. Directed by George McCowan.

All-out war between the United States and an Asian country is averted when the two sides agree to settle their differences by each choosing a single soldier as champion and having the two men fight to the death on an isolated island.