---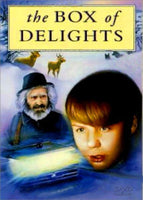 Sale
The Box of Delights 1984 DVD (Region 1 - Playable in North America - The US, Canada, Mexico, etc.) Complete, Uncut. Newly re-mastered! Color.
Starring: Robert Stephens, Devin Stanfield, James Grout, Geoffrey Larder, Jonathan Stephens, Heidi Burton, Patricia Quinn, Glyn Baker, John Horsley, Patrick Troughton. Written by Alan Seymour and John Masefield based on the beloved novel by John Masefield.

This British made-for-TV production begins during the Christmas season, when young Kay Harker (Devin Stanfield) returns home by train from boarding school. No sooner has he arrived than Stanfield has made the acquaintance of elderly eccentric Cole Hawlings (Patrick Troughton), who entrusts the boy with a mysterious box. Whatever magical powers the box possesses are coveted by evil Abner Brown (Robert Stephens), who'll stop at nothing -- including kidnapping -- to get what he wants. The story comes to a rousing finale when Stephens plans 'one last great wickedness' to claim the box for himself.
The Box of Delights was first telecast in the U.S. as a three-part presentation on PBS' Wonderworks series.
Based on the book by John Masefield.
"The Box of Delights is a dream - a Christmassy, satisfying and exciting dream..." - The British Review