---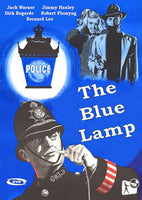 The Blue Lamp 1950 DVD (Region 1 - Playable in North America - The US, Canada, Mexico, etc.) 1950 Black and White. Beautifully restored! New pricing!

Starring: Jack Warner, Jimmy Hanley, Dirk Bogarde, Robert Flemyng, Bernard Lee, Peggy Evans, Bruce Seton, Clive Morton, Patric Doonan. Written by T.E.B. Clarke, Jan Reed, Ted Willis. Directed by Basil Dearden.
Rookie London police officer Andy Mitchell (Jimmy Hanley) is paired with seasoned cop George Dixon (Jack Warner) to work the night shift. When criminals Tom Riley (Dirk Bogarde) and Spud (Patric Doonan) are caught robbing a local movie theater, George meets Tom in a face-off. While trying to coax the thief into making a peaceful surrender, George is wounded and taken to the hospital. It then becomes Andy's task to track down the crooks and restore honor to his partner.