---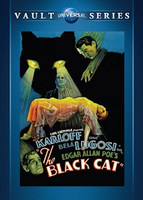 The Black Cat 1934 DVD (Region 1 - Playable in North America - The US, Canada, Mexico, etc.)  B&W
Starring: Boris Karloff, Bela Lugosi, David Manners, Julie Bishop, Harry Cording, Henry Armetta, King Baggot, Henry Bing, John Carradine, Andy Devine. Written by Peter Ruric and Edgar G. Ulmer, suggested by a story by Edgar Allan Poe Directed by Edgar G. Ulmer.

This bizarre, ingeniously fascinating little film offers the first and by far the most effective pairing of Karloff and Lugosi. Young newlyweds en route to Budapest for their honeymoon. They meet Lugosi on a train in Austria. When the trio transfer for a bus ride, the coach crashes and the young couple are invited to spend the night in Karloff's modernistic art-deco mansion...
 The magnificent sets, brilliantly fluid camera work and stunning performances by both Karloff and Lugosi give the film an almost timeless quality. Karloff's character was reportedly based on the infamously hedonistic Aleister Crowley.
The musical score is also extremely effective: the score is derived from classical pieces written by Tchaikovsky, Liszt, Schumann, Schubert and Beethoven which give the film an added sense of mystery and suspense.
Director Ulmer had worked with the classic German expressionist filmmakers in the 1920's and the influence is very evident: it's a classic horror masterpiece well worth seeing.
"Karloff and Lugosi together! Those stars of "Frankenstein" and "Dracula". Things you've never seen before or even dreamed of!"