---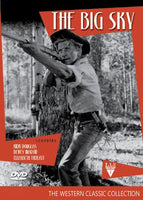 Sale
The Big Sky 1952 DVD (Region 1 - Playable in North America - The US, Canada, Mexico, etc.) Black & White. Full frame.
Starring: Kirk Douglas, Dewey Martin, Elizabeth Threatt, Arthur Hunnicutt, Buddy Baer, Jim Davis, Iron Eyes Cody. Written by Dudley Nichols and Ray Buffum from the novel "The Big Sky" by A.b. Guthrie Jr. Directed by Howard Hawks.

Frontiersman Jim Deakins (Douglas) is traveling up the wide Missouri river with his best friend Boone Caudill (Dewey Martin) to trade with the Black Feet Indians. Boone's uncle Zeb (Academy Award nominee Arthur Hunnicutt) is traveling with them - returning a kidnapped Black Foot princess Teal Eye (Elizabeth Threatt) to her people. It's a perilous journey, pitting them against the brutal elements and rival traders who want them dead and just when their troubles couldn't get even worse Jim realizes he's in love with Teal Eye.
Directed by Howard Hawks (Red River, Rio Bravo), this classic adventure is filled with excitement, humor and larger than life characters. Two times Oscar nominated in 1953 for Best Actor in a Supporting Role and Best Cinematography.

Region One. North American Format.
Also available here at the Movie-O-Zone - the colorized version of THE BIG SKY!