---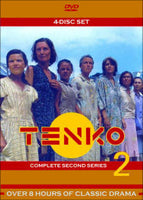 Sale
Tenko: Series 2 (Region One - Playable in the US, Canada, Mexico, etc.) 4-Disc Set. Color. 1982 New, lower price!

Starring: Stephanie Beacham, Stephanie Cole, Louise Jameson, Elizabeth Chambers, Ann Bell, Claire Olberman, Elimie Bolton,  Veronica Roberts, Burt Kwouk, Takashi Kawahara, Eiji Kusuhara. Series written by Lavinia Warner, Jill Hyem, Anne Valery and Paul Wheeler. Series directed by Jeremy Summers, David Askey, Pennant Roberts, David Tucker and Michael Owen Morris.

The second series of the critically acclaimed BBC drama Tenko resumes its bold exploration of the real-life ordeals of European women incarcerated in horrific Japanese POW camps during WWII. Tenko Series 2 begins deep in the stifling jungles of Singapore as the prisoners are relocated to a new camp. Under the menacing command of Miss Hasan, the women band together in order to survive the appalling conditions of the camp - where starvation and suffering are the grim reality.Honest, unerring performances by an all-star cast Tenko Series 2 is a gut-wrenching tribute to female prisoners-of-war. This 4-Disc Set contains all ten episodes of the second series.

Followed by Tenko: Series 3 and Tenko: The Reunion (a special event movie) - also available here at The Movie-O-Zone!

And don't miss Tenko Series 1 (available here, too)!