---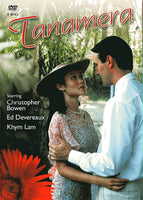 Tanamera Lion of Singapore 1989 (DVD)  Color Complete Series (Region 1 - Playable in North America - The US, Canada, Mexico, etc.) 4 Disc Set 350 min. Digitally remastered. Australian - British Co-Production.
New, lower price!
Starring: Christopher Bowen, Khym Lam, Anthony Calf, Gary Sweet, John Jarratt, Anne-Louise Lambert, Penne Hackforth-Jones, Lewis Fiander, Bryan Marshall, Betty Lucas, Wallas Eaton, Darren Yap and Anthony Wong. Based on the novel, Tanamera, by Noel Barber. Directed by Kevin Dobson and John Power.
Lavish 1980s romantic mini-series set in Singapore in the twilight years of the British Empire. John Dexter (Christopher Bowen) is a dashing young Englishman from Singapore's wealthiest merchant family. Julie Soong (Khym Lam) is a beautiful young girl from one of the island's most respected Chinese families. Banished to opposite sides of the world by their disapproving families, the young lovers try to build new lives apart, but the outbreak of World War 2 causes them both to be drawn back to Singapore. Now, amidst the horrors of the Japanese invasion and the uneasy peace that follows, the young lovers must fight to keep their love alive.
"The show is the stuff of romance fiction, anchored by an undying love affair between a dashing English scion and his luminous Chinese lover (British actor Christopher Bowen and Singapore-born Khym Lam)." – Los Angeles Times