---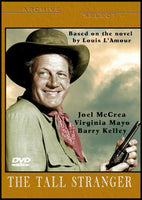 The Tall Stranger (1957) DVD (Region One - Playable in North America - The US, Canada, Mexico, etc.) Color. Widescreen. Beautifully restored and newly reduced!

Starring: Joel McCrea, Virginia Mayo, Barry Kelley, Michael Ansara, Whit Bissell and Ray Teal. Written by Christopher Knopf. Based on the novel by Louis L'Amour. Directed by Thomas Carr.
Joel  McCrea plays Ned Bannon, an ex-Union officer who comes across rustlers and is shot and left for dead. He is found just in time by a wagon train heading for California. When he recovers he becomes suspicious of the outsider (George Neise) who is leading the train into a dead-end valley owned by Bannon's hostile half-brother (Barry Kelley). Braving his relative's animosity going back to the Civil War, he makes contact to try and avoid a showdown.
"He Rode Tall And He Walked Tall... The Stranger out of Nowhere! The wagon train hated him, even after his gun had saved them from a massacre!"
"The Tall Stranger is a good fast paced western that fans of the genre and fans of Joel McCrea will definitely like." – Allcott Reviews