---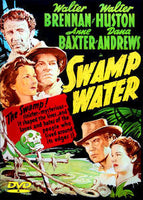 Sale
Swamp Water 1941 DVD (Region 1 - Playable in North America - The US, Canada, Mexico, etc.) Black & White.
Starring: Walter Brennan, Anne Baxter, Walter Huston, Dana Andrews, John Carradine, Ward Bond. Written by Dudley Nichols, based on the novel by Vereen Bell. Directed by Jean Renoir and Irving Pichel.

Noted French director Jean Renoir made his American debut with this 1941 film. Walter Brennan plays Tom Keefer, a man who is falsely convicted of a murder and sentenced to death by hanging. He has escaped from prison and is hiding out in Georgia's Okefenokee Swamp. Keefer is dedicated to finding the real killer and clearing his name. A trapper, Ben Ragan (Dana Andrews), is out searching for his dog when he finds Keefer hiding in the swamp. Ben believes the man's tale of being falsely railroaded. The two men trap animals, and Ben sells the furs, while his father (Walter Huston) eats the meat. Keefer tells Ben to give his share of the money from their pelt sales to his daughter, Julie (Anne Baxter). Ben eventually falls in love with Julie, arousing the wrath of Ben's girlfriend Mabel (Virginia McKenzie), who tells authorities about Keefer's secret. Ben, however, refuses to cooperate with officials' efforts to locate the escaped convict.
Swamp Water was released in Great Britain under the title "The Man Who Came Back". Remade in 1952 as "Lure of the Wilderness", with Brennan playing the same role.