---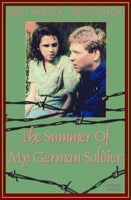 Sale
Summer of My German Soldier DVD 1978 (Region 1 - Playable in North America - the US, Canada, Mexico, etc.) Color.
Starring: Kristy McNichol, Bruce Davison, Esther Rolle, Barbara Barrie, Michael Constantine, James Noble, Robyn Lively, G.W. Bailey. Written by  Jane-Howard Hammerstein, based on the novel by Bette Greene. Directed by Michael Tuchner.

During World War II, Anton Reiker (Bruce Davison), a German POW is assigned to work at a local farm in Georgia. Reiker escapes, taking refuge in a barn owned by the Bergens, a Jewish family. At first terrified by her "guest", teen-aged Patty Bergen (Kristy McNichol) falls in love with Anton, zealously hiding him from the rest of her family and the authorities. The two are bound by fate and futility, wondering where their love will lead them.
Esther Rolle, playing Bergen's maid, Ruth, won an Emmy for her performance; an additional nomination went to the script by Jane-Howard Hammerstein, based on Bette Green's classic young adult novel.