---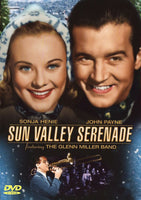 Sale
Sun Valley Serenade (1941) DVD (Region one compatible - Playable in the US, Canada, Mexico, etc.) Running time approx: 86 minutes Black and White Beautifully restored print
Directed by H. Bruce Humberstone, Produced by Milton Sperling, Written by Art Arthur (story), Robert Harari (story), Screenplay by Robert Ellis and Helen Logan Music by David Buttolph, Cyril J. Mockridge, Emil Newman
Starring: Sonja Henie, John Payne, Milton Berle, Glenn Miller, Lynn Bari, Dorothy Dandridge and The Nicholas Brothers
Ted Scott (John Payne) is a band pianist whose publicity manager decides that, for good press, the band should adopt a foreign refugee. The band goes to Ellis Island to meet the girl and soon discovers that the refugee isn't a 10-year-old child, but a young woman, Karen Benson (Sonja Henie). The surprise comes right before the band is to travel to Sun Valley, Idaho, for a Christmas event. While on the ski slopes Ted soon falls for Karen's inventive schemes to win the heart of her new sponsor, much to the chagrin of his girlfriend, Vivian Dawn (Lynn Bari), a soloist with the band. Vivian promptly quits the band out of jealousy, and Karen stages an elaborate ice show as a substitute.
Of particular note is the elaborate "Chattanooga Choo Choo" sequence. The scene begins at a rehearsal with the Glenn Miller Orchestra practicing "Chattanooga Choo Choo" and includes two choruses of the song whistled and sung by Tex Beneke in a musical exchange with The Modernaires. As the Miller band concludes their feature the camera pans left to reveal a railway station set. The band continues with the production number and accompanies Dorothy Dandridge and the Nicholas Brothers in their song and dance routine.
Academy Awards: Nominated: Best Cinematography, Black-and-White, Edward Cronjager (1942),     Nominated: Best Music, Original Song for "Chattanooga Choo Choo" Harry Warren (music), Mack Gordon (lyrics) (1942), Nominated: Best Music, Scoring of a Musical Picture, Emil Newman (1942)
The film features the million selling hit song "Chattanooga Choo Choo" which is a highlight and centerpiece of the movie. The RCA Victor 78 single reached no. 1 on the Billboard singles chart in 1941 and became the top record of that year. RCA Victor awarded Glenn Miler a Gold Record award for sales of 1.2 million copies in 1942. Originally, RCA issued the song as the B side with "I Know Why" as the A side. But "Chattanooga Choo Choo" was the side that was played on the radio and which became the hit.
"THIS IS THE PICTURE THAT INTRODUCED "CHATTANOOGA CHOO-CHOO". GRAND ENTERTAINMENT....For Your Eyes! For Your Ears! For Your Heart!"