---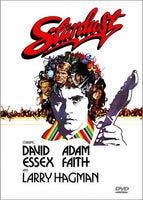 Sale
Stardust 1974 DVD (Region 1 - Playable in North America - The US, Canada, Mexico, etc.) Color. Beautiful widescreen print! 
Starring: David Essex, Adam Faith, Larry Hagman, Keith Moon, Dave Edmunds, Ines Des Longchamps, Edd Byrnes, Paul Nicholas. Written by Ray Connolly. Directed by Michael Apted.

The sequel to the 1973 film That'll Be The Day (also available here at he Move-O-Zone). Its tagline is: "Show me a boy who never wanted to be a rock star and I'll show you a liar." Following from the events in the earlier film, the characters Jim Maclaine, Jeanette and J.D. have moved into the mid 1960s/early 70's and the growing career of aspiring rock star MacLaine. MacLaine has assembled a group of musicians and formed the band The Stray Cats, he seeks out his old friend Mike to become the band's road manager. Mike acquires a new van, accommodation and a recording session for the group. MacLaine soon becomes a massive star and is plunged into the centre of media attention. He indulges in casual sex and heavy drug use and the film documents the detrimental effects of this success on MacLaine and his relationship with his friends and colleagues. In particular, MacLaine's long-standing friendship with manager Mike is now soured by money and success.

By the end of Stardust, the timeline has roughly caught up to the 1974 release of the film. Many of the characters were played by British musicians who had lived/were living through the era portrayed in the film including Essex, Faith, Marty Wilde, Keith Moon, Dave Edmunds, and Paul Nicholas.

Movie-O-Zone also offers "THAT'LL BE THE DAY"!
Review: "David Essex is the top billed actor but this movie is a tour de force for fellow pop idol Adam Faith, who plays his manager. In truth it's Faith's film from start to finish. His down to earth, world-weary persona contrasts with Essex more star-struck, fragile character and the two combine well to explore the increasingly bizarre world of a working-class rock star on the road to oblivion. Essex' role seems more a supporting act to Faith's in STARDUST compared to THAT'LL BE THE DAY in which he plays the same role of Jim Maclean."