---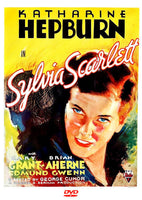 Sale
Sylvia Scarlett 1935 DVD (Region 1 - Playable in North America - The US, Canada, Mexico, etc.) Black & White. Beautiful print.
Starring: Katharine Hepburn, Cary Grant, Brian Aherne, Edmund Gwenn, Bunny Beatty, May Beatty. Written by Gladys Unger, John Collier and Mortimer Offner. Directed by George Cukor.

After the death of her mother, Sylvia Scarlett (Katharine Hepburn) decides that she can help her debt-ridden father, Henry (Edmund Gwenn), by dressing like a young man in order to move more freely in society. Returning to England from France, the pair are conned by smuggler Jimmy Monkley (Cary Grant), but are impressed enough by him to join several of his unsuccessful swindling schemes. Sylvia is unexpectedly brought out of her liberated masculine persona when she meets a breezy bohemian artist.
"The screen's empress of emotion in a story that seethes with romantic intrigue, drama, devotion."