---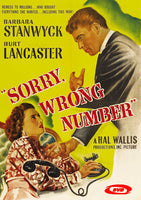 Sale
Sorry, Wrong Number 1948 DVD B&W (Region 1 - Playable in North America - The US, Canada, Mexico, etc.) Color. Beautiful print! 
Starring: Barbara Stanwyck, Burt Lancaster, Ann Richards, Wendell Corey, Ed Begley, Leif Erickson, William Conrad. Written by Lucille Fletcher. Directed by Anatole Litvak.
Leona Stevenson (Barbara Stanwyck), a controlling heiress confined to a wheelchair, overhears a conversation about a plan to kill a woman. Unable to leave her home or reach her husband (Burt Lancaster), she is written off by the police as crazy hypochondriac. Leona struggles to uncover the truth through a series of phone calls that only lead her deeper into a mystery, which may involve her college rival, Sally (Ann Richards), and a scheme to sell pharmaceuticals on the black market.
"Helpless ... alone ... she heard her own murder being planned on the telephone!"